Seems like after every Windows 10 upgrade, the shared folders inside Vmware Workstation VMs stop working. Reinstalling Vmware Tools and rebooting the VM or host will not fix this issue.
The problem seem to be related to this registry key:HKEY_LOCAL_MACHINE\ SYSTEM\CurrentControlSet\Control\NetworkProvider\Order\ProviderOrder

The value should contain also vmhgfs and seems to be rewritten after each Windows 10 upgrade. So just add this value and shared folders should start working again (no reboot necessary).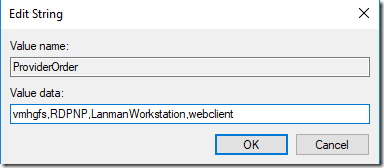 Hope this will help other people experiencing this annoying issue.
Write a comment