Ramasese sa continui cu Exchange, asta pentru ca este una din componentele de baza din pachetul SBS.
Inainte de a incepe e necesar sa verificam urmatoarele:
1. Conectivitatea la Internet
– rezolutia de nume functioneaza (exemplu: putem sa rezolvam www.google.com la o adresa IP)
– putem sa accesam resurse de pe internet (sa deschidem www.google.com)
– alte protocoale necesare functionarii SBS (ex:SMTP)
2. Zona DNS externa e configurata
– asta e zona care se vede din internet si care am achizitionat-o de exemplu de la RNC (www.rnc.ro); in cazul RNC, trebuie sa specific din pagina de administrare, care vor fi serverele mele DNS care imi tin zona. O varianta ar fi chiar serverul SBS si as recomanda ca zona DNS sa fie tinuta in cel putin 2 locuri (puteti incerca sa discutati cu providerul de internet sau sa gasiti un DNS hosting extern).

Nota: Atentie la inregistrarile MX. Acestea specifica ce server e respondabil de mail pe o anumita zona.
SBS are un wizard care da de inteles ca ar ajuta in configurarea zonei insa cel mai bine e sa va ocupati manual de acest task.
Daca se intampla sa nu o gaseasca, rulati manual wizard-ul Fix My network si lasati-l pe el sa corecteze zona (o sa adauge un subdomeniu numit remote; trebuie corectat sa pointeze catre ip-ul extern in cazul in care serverul e dupa un NAT).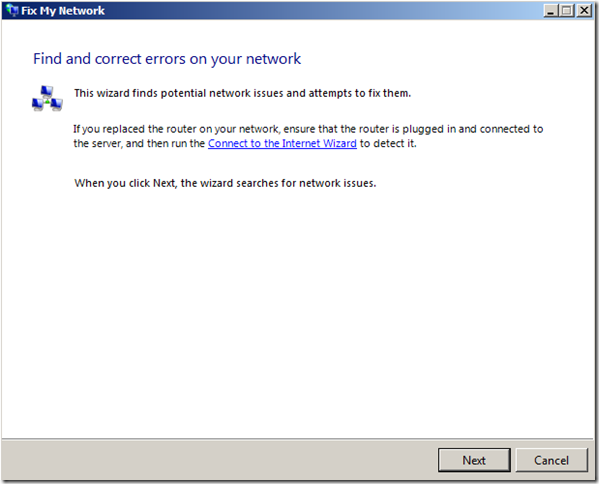 3. In cazul in care sunteti in spatele unui NAT, asigurati-va ca aveti facute regulile necesare pentru forwardarea traficului catre serverul SBS (SMTP/HTTP/HTTPS/RDP)
Atentie ca SBS-ul configureaza automat serverul DHCP pe baza IP-ului pe care il are configurat. Daca folositi un router de tip small office cu DHCP activat acesta ar fi momentul sa alegeti unde lasati DHCP-ul sa functioneze (SBS sau router). Iata si cum arata configurarile:


Considerand ca am setat zona DNS si conexiunea la Internat sa vedem ce trebuie sa mai facem pentru a termina cu setup-ul Exchange-ului. Nu foarte multe, pentru ca spre deosebire de configurarea unui server normal, aici totul se face din consola de administrare SBS fara ca administratorul sa stie foarte multe despre Exchange (dar o sa trebuiasca sa invete atunci cand nu o sa mearga ceva 🙂 ).
Primul pas care trebuie facut e sa rulam wizard-ul Connect to the Internet: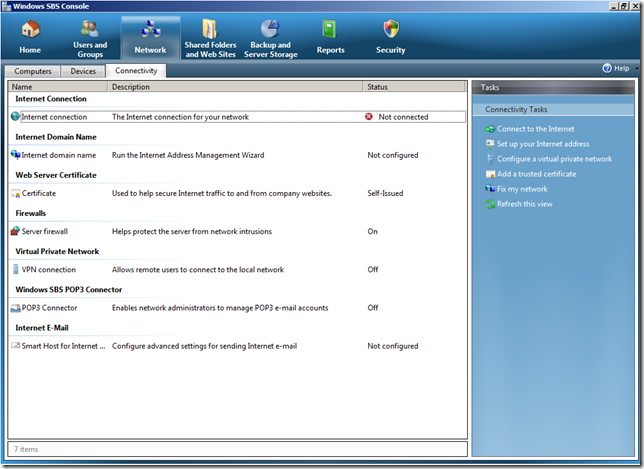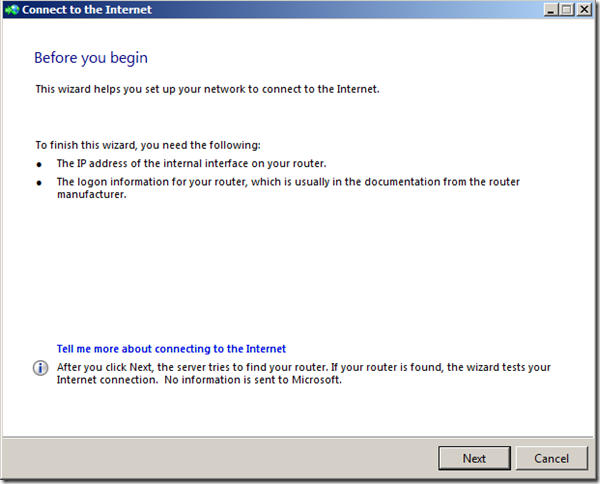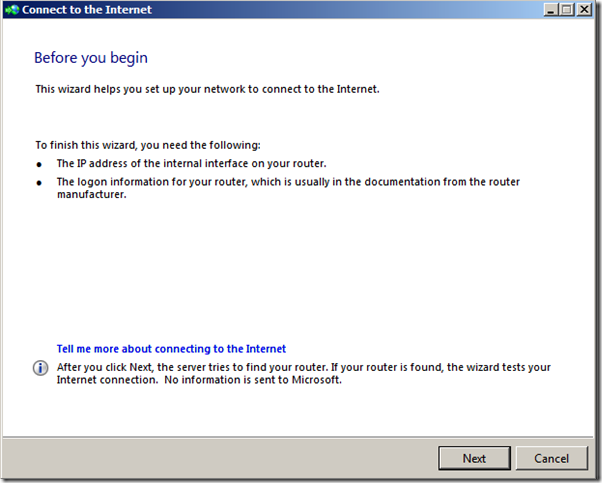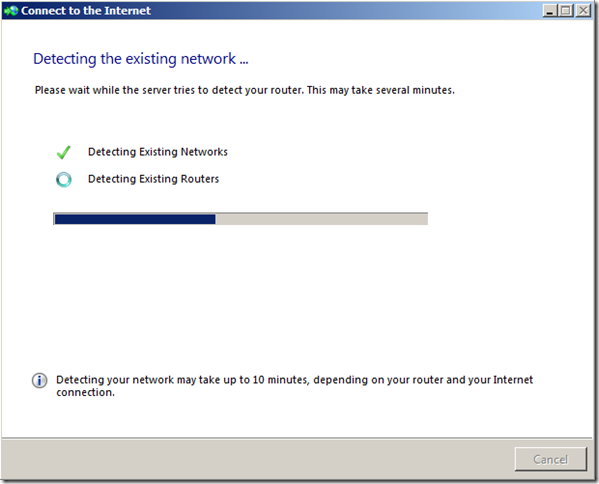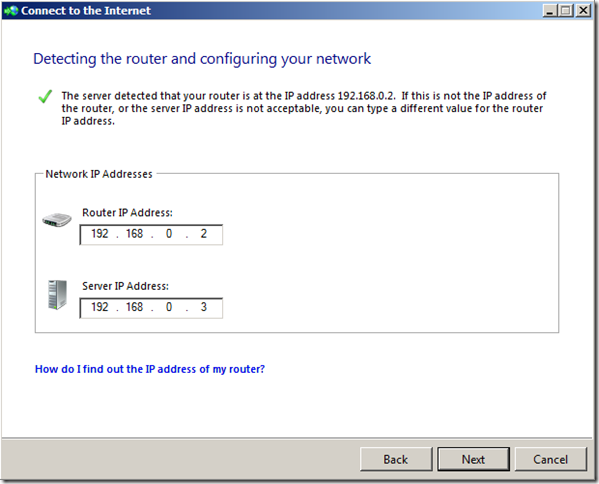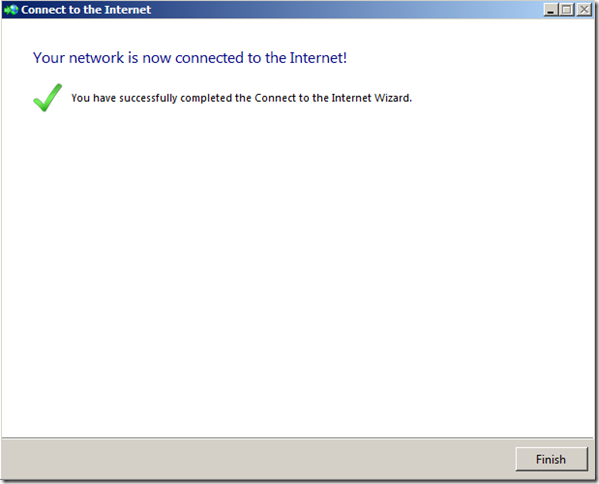 Acum putem sa rulam Internet Address Management Wizard: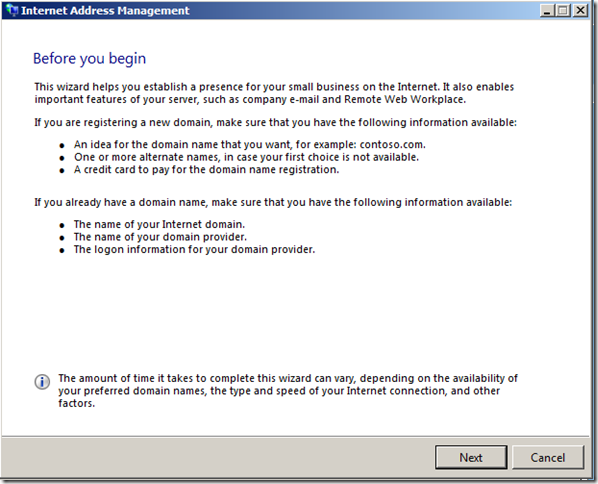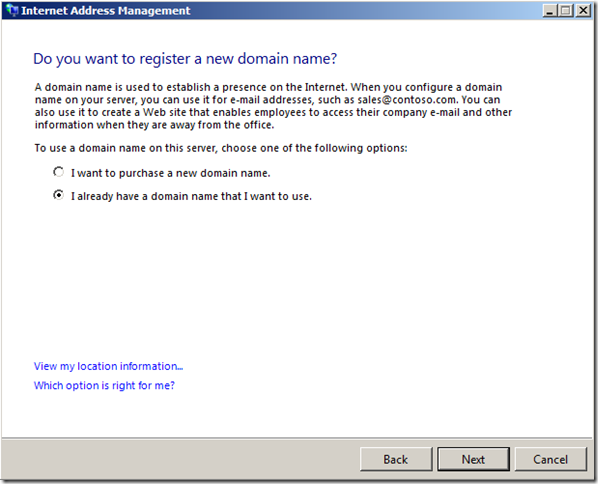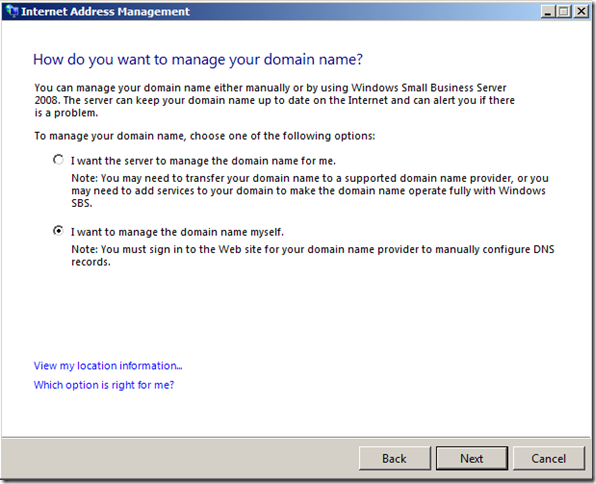 La numele domeniului introducem numele extern de DNS.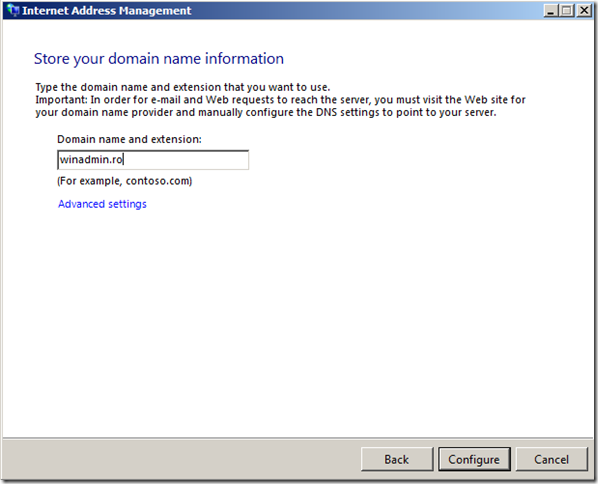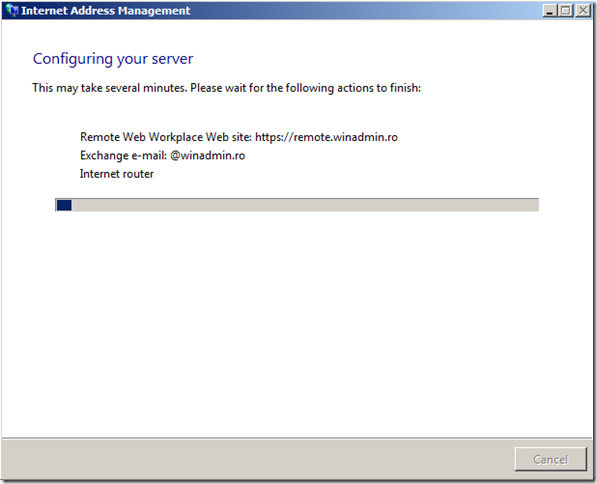 In cazul meu am primit 2 mesaje de eroare asta pentru ca nu a reusit sa-mi configureze routerul (vmware) si ceva in neregula cu portalul remote (aici banuiesc ca e din cauza certificatului pentru ca pagina web e accesibila).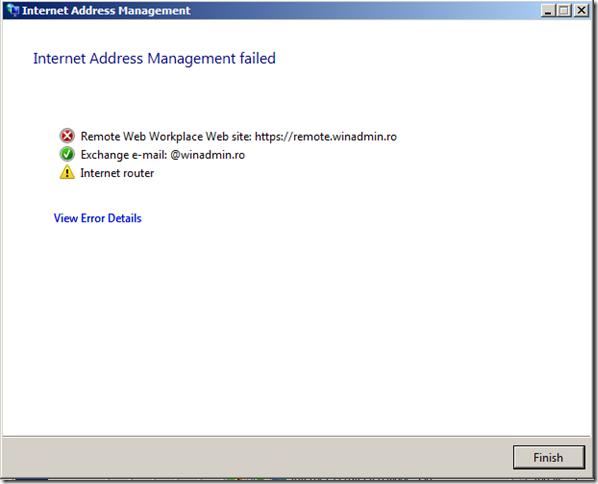 In schimb se pare ca Exchange-ul a fost configurat.
Mai asteptati si altceva? 🙂 Cam asta e tot. Ca sa confirmam hai sa ne uitam putin in Exchange: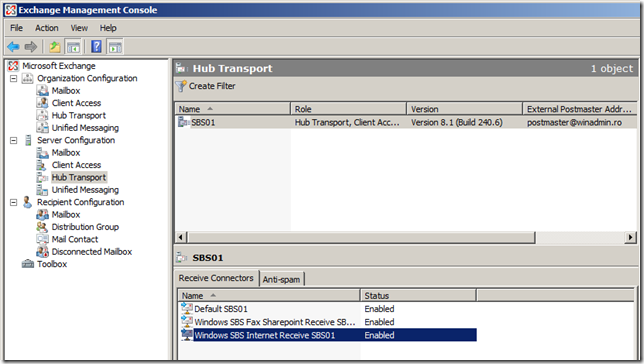 Conectorul a fost si configurat pentru a putea primi mail din internet.
Implicit OWA (Outlook Web Access) a fost configurat pentru a  putea fi accesat la https://remote.winadmin.ro/owa/. Accesul poate fi configurat tot din consola SBS: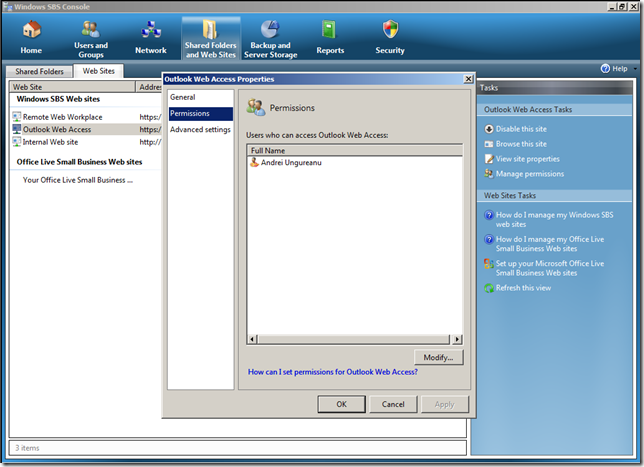 Cam atat in acest moment despre Exchange. Intr-unul din articolele urmatoare vom discuta si despre configurarea clientului de mail pe statii.
Write a comment