Mail Tips reprezinta un nou set de functionalitati in Exchange 2010 care imbunatatesc experienta utilizatorului si sunt utile pentru a evita unele emailuri inutile.
Aceste functionalitati sunt disponibile pentru userii care folosesc OWA (Outlook Web Applications; oare ce era in neregula cu vechea denumire Outlook Web Access?) sau Outlook 2010.
O arat cum functioneaza Mail Tips printr-un scenariu foarte simplu. Trimiterea unui email la un user care are setat Out of the office. Inainte sa apuc sa trimit emailul (de fapt asta se intampla la cateva secunde dupa completarea adresei de email in Outlook), clientul de mail ma avertizeaza ca acel user are Out of the office setat, deci e posibil sa nu fie la birou si atunci mailul meu sa fie trimis degeaba.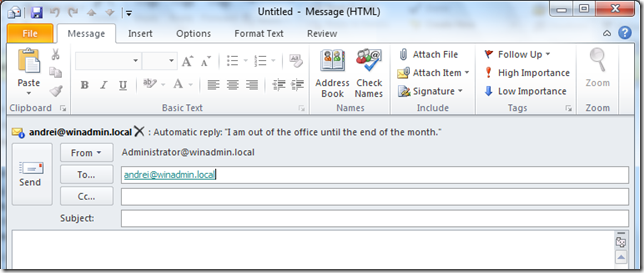 Alte exemple in care ajuta Mail Tips: trimiterea unui mesaj unui user cu mailbox-ul plin; mesaje cu atasamente care depasesc limitele setate de administrator, sau mesaje trimise unui recipient care are "delivery restrictions" setat.
MailTips mai avertizeaza utilizatorul si atunci cand se trimite un email catre o lista cu mai mult de 25 de membri. Inca un avertisment bine venit este acela de Reply-All BCC – atunci cand dai reply all la un mesaj in care adresa ta era initial in BCC.
Aceste MailTips-uri pot fi customizate la nivel de organizatie sau la nivel de recipient in Exchange, dar mai multe despre asta in alta zi .
3 Responses to "Exchange 2010 – Mail Tips"
Write a comment