Active Directory Administrative Center este un nou instrument de administrare a obiectelor din Active Directory, inclus in Windows Server 2008 R2 si disponibil in Windows 7 prin instalarea Remote Server Administration Tools. Folosind aceasta consola putem crea obiecte de tip user, computer, OU, sau le putem administra pe cele existente. De asemenea, putem efectua cautari filtrate dupa diverse criterii. Aceste cautari ne pot ajuta, de exemplu, pentru Active Directory clean up, adica identificarea, dezactivarea si/sau stergerea conturilor de tip user sau computer nefolosite.
Sa vedem cum procedam. Deschidem ADAC ( Active Directory Administrative Center) din Administrative Tools :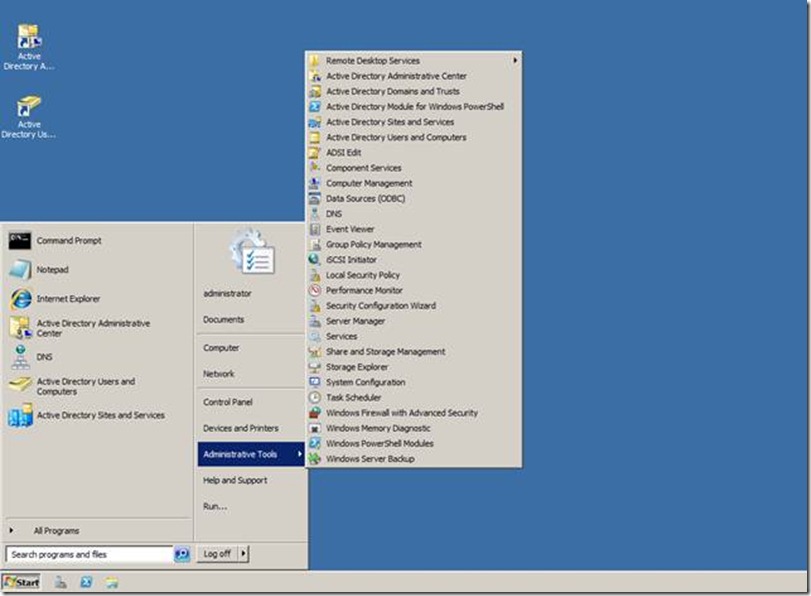 Mergem la Global Search si, in partea dreapta, expandam Add criteria. Bifam "Users with enabled accounts who have not logged on for more than a given numbers of days" si dam click pe Add :
Acum putem selecta numar de zile :

Sa zicem 60 de zile. Dupa care dam un click pe Search si avem rezultatul. Acum, ii putem selecta si, cu click dreapta sau din partea dreapta a consolei ( Tasks ), ii putem dezactiva sau sterge din Active Directory :

Traducerea in LDAP a acestei cautari arata cam asa : cautam obiecte de tip user – persoana, enabled (vezi atributul UserAccountControl) inactive in perioada data curenta minus 60 zile, folosindu-ne de atributul lastLogonTimestamp. Valoarea acestuia din urma este updatata implicit la interval de 14 zile asa ca sfatul meu e sa nu folositi intervalul de 15 sau chiar 30 de zile pentru clean up, ca sa nu riscati sa stergeti conturi active. Convertirea valorii in format standard de timp este descrisa aici .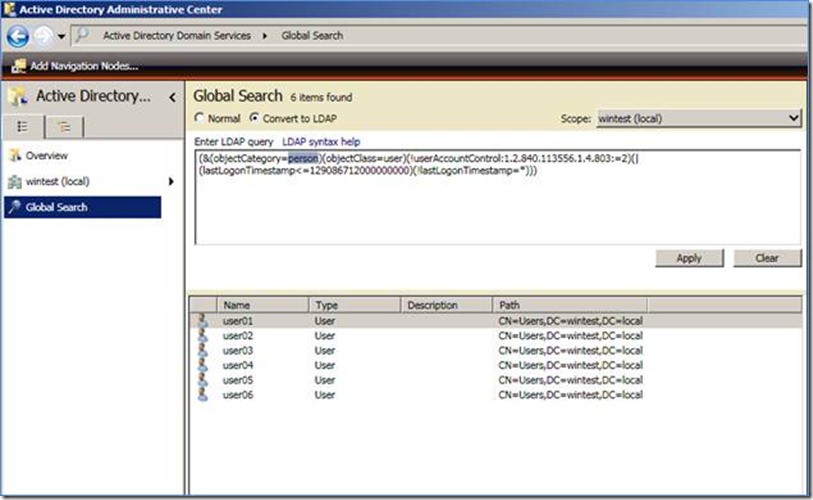 Cum putem cauta computerele inactive timp de 60 de zile? Editam query-ul, inlocuind valoarea "person" a atributului objectCategory cu "computer". Click pe Apply si gasim si computerele inactive pe care, de asemenea, le putem dezactiva sau sterge: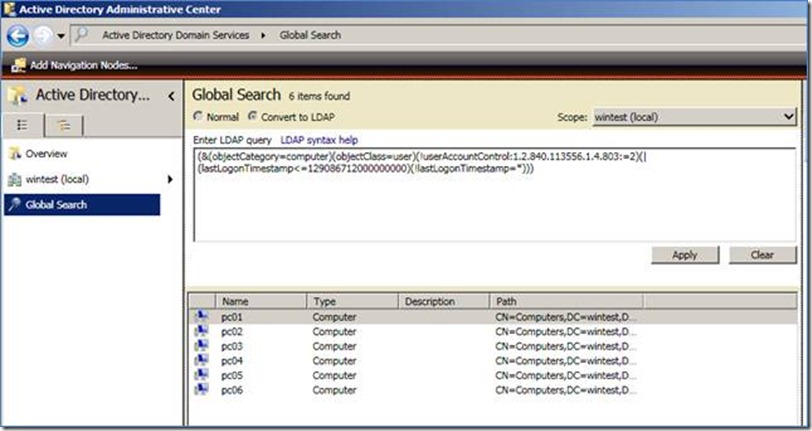 Spuneam ca ADAC a aparut de la Windows Server 2008 R2. Consola poate fi folosita totusi si cu Active Directory 2003 si 2008. Vedeti aici conditiile. Sunt valabile si pentru ADAC.
Write a comment