Spre stupoarea mea, (abia!) azi am aflat ca pagina de logon de la Windows 7 (ma rog, cica de la XP incoa' merge facut asta, eu nu am stiut) se poate customiza.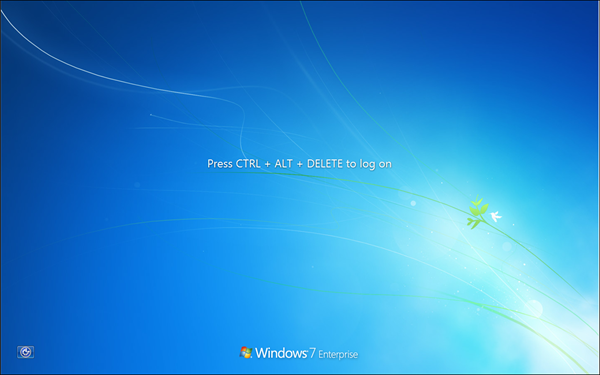 In mare, trebuie facuta o modificare in registri si pregatite cateva poze la rezolutii diferite (in cazul in care se face deployment pe n-spe masini).
Dar, sa facem totul pas cu pas.
Modificare registri
Regedit in Run si mergem la HKEY_LOCAL_MACHINE\SOFTWARE\Microsoft\Windows\CurrentVersion\Authentication\LogonUI\Background. Daca valoarea cheii OEMBackground este 0, modificam cu 1. Daca cheia nu exista, o cream.

Crearea si modificarea pozelor
Imaginea de background implicita cu care vine Windows 7 (background.bmp) se afla in %windir%\System32\oobe si are o rezolutie de 1024 x 768 pixels. Ca sa adaugam propriile imagini sau sa o modificam pe cea implicita (de exemplu sa adaugam numele sau sigla firmei), trebuie sa cream (implicit acestea nu sunt create) un director Info in directorul oobe si un director Backgrounds in Info.

Alegem o poza de maxim 250 KB pe care vrem sa o folosim ca imagine de background si o redenumim in backgrounddefault.jpg. Copiem poza in directorul Backgrounds si…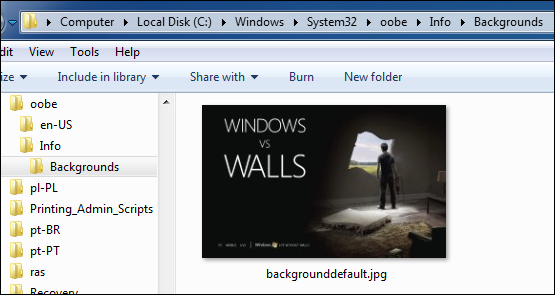 …blocam calculatorul cu Win+L.
Daca totul e facut corect, ar trebui sa avem ceva de genul:
Daca folosim backgrounddefault.jpg, imaginea se va mari/micsora in functie de rezolutia sistemului de operare. Am cautat ceva mai multe detalii despre aceasta "facilitate" pe site-uri Microsoft-related si in afara de site-ul de parteneri nu am gasit nimic; mi-e si lene sa caut acum mai mult… 🙂
In fine, o sa citez mai jos ce scrie intr-un document PDF creat pentru OEM. (Daca informatia este sub NDA, rog pe cineva de la MS sa-mi spuna si o sa scot citatul, dar nu cred ca va fi o problema…)
Citez:
"This image must be sized appropriately for the resolution of the computer screen and must not exceed 250 kilobytes (kb). For a custom image to be used, the directory %WINDOWS%\System32\OOBE\Info\Backgrounds must contain either an image that is specified as the default image, or an image that matches the screen resolution. If a default image is used, the default filename must be:
backgroundDefault.jpg
The filenames for images to be used for specific screen resolutions are:
background768x1280.jpg
background768x1360.jpg
background900x1440.jpg
background960x1280.jpg
background1024x768.jpg
background1024x1280.jpg
background1280x768.jpg
background1280x960.jpg
background1280x1024.jpg
background1360x768.jpg
background1440x900.jpg
background1600x1200.jpg
background1920x1200.jpg"
Personal nu am incercat asta cu mai multe rezolutii, deci nu stiu sa spun cum merge. Vali, in schimb, mi-a si aratat ca merge. Cand refac imaginea de Windows 7 din firma o sa incerc sa fac si eu si revin cu un update.
P.S. Traiasca Vali ca si-a blocat calculatorul si am putut sa-i vad "Windows Welcome"-ul customizat; si de acolo, a mers ca intre IT-isti 🙂
2 Responses to "Windows 7 logon screen sau Windows Welcome background"
Write a comment