Pai sa o luam cu inceputul. Orice user dintr-un domeniu AD are dreptul de a joina sisteme la domeniu. Drepturile astea sunt specificate in Default Domain Controllers Security Policy:

Modul prin care pot fi joinate este cel remote in care te duci pe sistemul respectiv, computer properties, network identification si ii spui ca face parte din domeniul X.Y: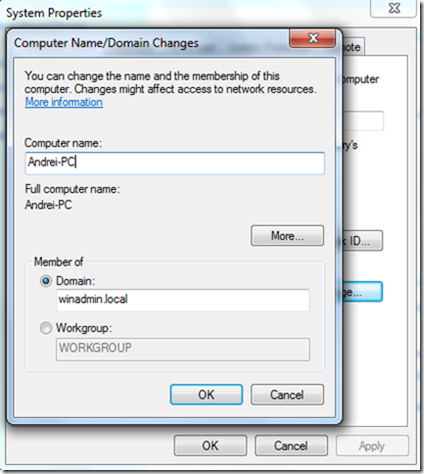 Eu de fiecare data am preferat sa spun ca asta e modul AdHoc de a joina sistemele (si pe care nu il recomand). Computer accounturile pentru sistemele nou joinate for fi create in containerul default Computers: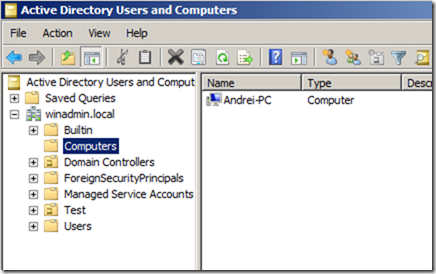 Si cum nu putea fi atat de simplu acum intervine smecheria. Exista un soi de quota, si fiecare user are dreptul de a joina maxim 10  sisteme. Limita asta o stiu de la Windows 2000 si nu cred ca s-a schimbat. Ce nustiu foarte multi e ca aceasta limita poate fi modificata prin editarea atributului ms-DS-MachineAccountQuota. Despre cum sa-l modifici gasesti aici:
http://support.microsoft.com/kb/243327
Acum de ce am zis ca nu recomand modul asta de a joina sistemele in AD? Pentru ca toate ajung in containerul Computers (by default; nu mai zic cum se modifica pentru ca nu are rost), nu le muta nimeni, GPO nu se aplica si iese o harababura acolo.
Modul pe care eu il recomand e sa delegi drepturile necesare pe un container, sa pre-creezi computer accountul si abia dupaia sa joinezi sistemul la domeniu.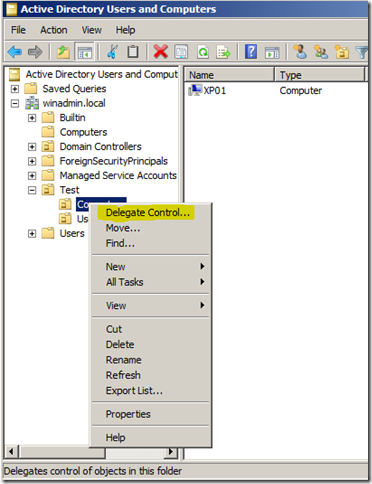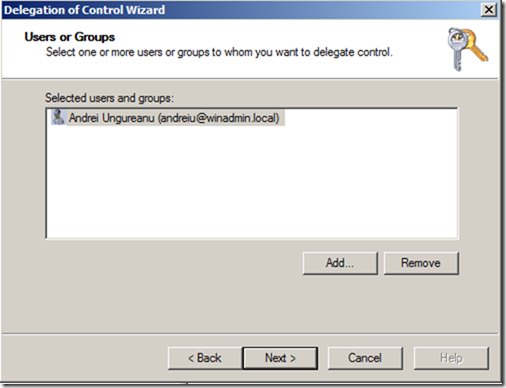 Recomandat in cazul delegarilor e sa folositi grupuri nu useri cum am facut eu in exemplul de mai sus. In caz ca userul pleaca puteti foarte simplu modifica membrii grupului fara a pierde delegarea. Sau puteti revoca drepturi modificand doar grupul.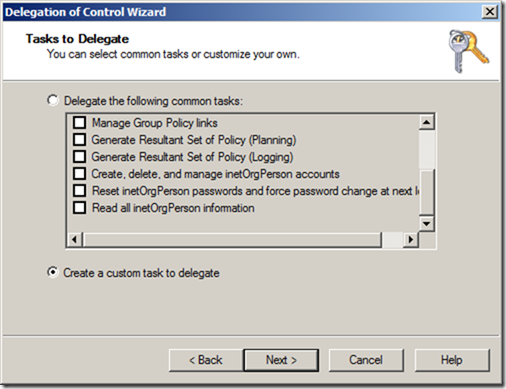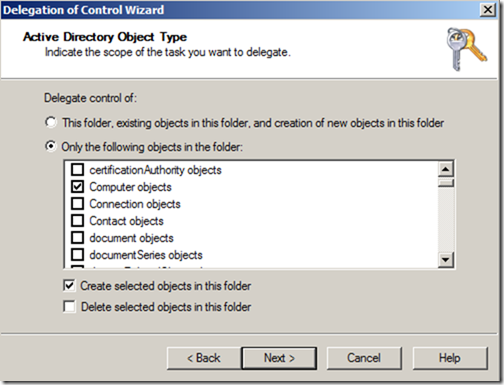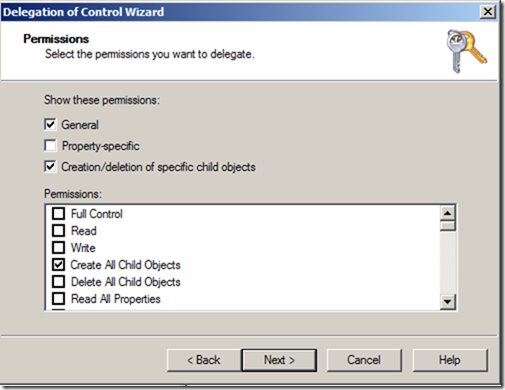 Tot la fel poti sa-I dai si dreptul de a sterge computer accounturi.
Pasul urmator e de a pre-crea computer accountul: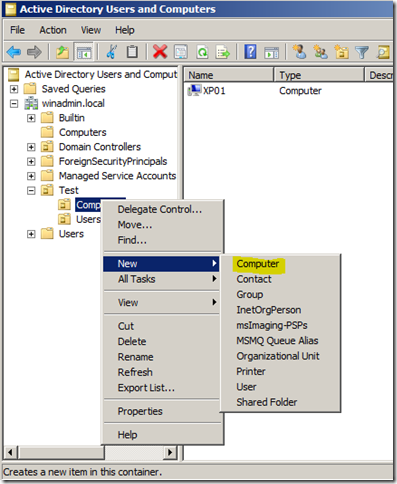 Deci admin-ul nou delegat trebuie sa foloseasca Active Directory Users and Computers pentru acest task de fiecare data cand o sa introduca un sistem nou in domeniu. Nu e nevoie de drepturi de domain admin sau de drept de logon pe domain controller. Consola se poate instala pe orice statie din domeniu.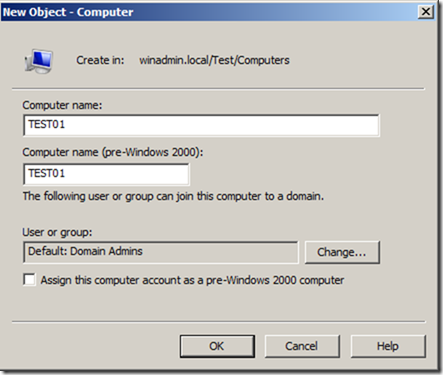 Atentie la rubrica User or Group. Aici puteti specifica ce alti useri sau grupuri o sa mai aiba acces pe acest computer account. By default userul ce il creaza este Creator Owner si are drept de Join/Modify/Delete. Aici puteti de exemplu sa specificati un grup folosit de departamentul IT, dar nu e obligatoriu.
Pasul urmator e de a joina sistemul care are acelasi nume cu computer accountul, in domeniu. Iar aici nu e nimic special, e ce am descris in primele randuri ale acestui articol.
Acum insa hai sa luam in calcul inca un scenariu. Poate ca am delegat drepturi pentru un user/grup pe un container in care se mai aflau si alte conturi, sau poate ca mai sunt si alti useri care au drepturi aici si joineaza si ei sisteme. Bineinteles ca userul nostru nu o sa fie Creator Owner pe computer accounturile create de altii si nici nu o sa aiba drepturi (in caz ca nu s-a folosit optiunea User and Group descrisa mai sus). Si ce facem daca vrem sa re-joinam un sistem introdus in domeniu de altcineva (poate de un domain admin)?
Pai mai e nevoie sa delegam urmatoarele drepturi la nivel de OU:
Reset Password
Validated write to DNS host name
Read and write Account Restrictions
Validated write to service principal name
Acesta este minumul de permisiuni necesare pentru re-join: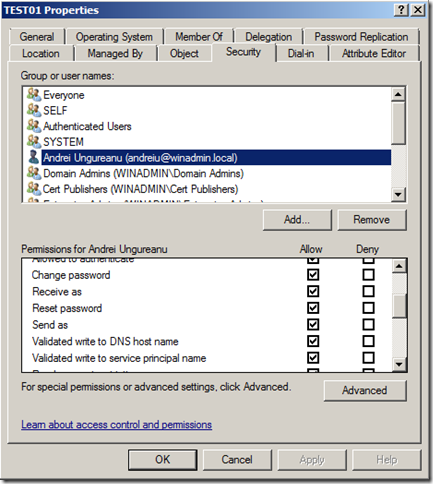 Mai sus sunt ceva mai multe permisiuni, insa am folosit imaginea pentru a arata unde puteti vedea aceste drepturi. Wizard-ul de delegari ati vazut cum se foloseste, iar daca vreti sa va complicati putin puteti folosi chiar si tab-ul security pentru a modifica drepturile pe un OU.
In felul acesta userul o sa aiba drept sa rejoineze orice computer ce se afla in acest OU.
Si cam atat imi amintesc acum. Sper sa nu-mi fi scapat foarte multe lucruri, dar daca am uitat ceva astept completari.
PS: Ar mai fi si varianta cu dat drept pe containerul Computers, dar nu recomand. De cele mai multe orice, ce ajunge pe acolo ramane orfan.
Write a comment