In incercarea de a mai acapara piata, Microsoft a lansat o versiune noua a tool-ului de conversie Microsoft Virtual Machine Converter pe care il puteti downloada de aici:
http://www.microsoft.com/en-us/download/details.aspx?id=42497
Un astfel de tool este esential atunci cand incerci sa iti convingi clientii sa schimbe platforma de virtualizare. Cu toate astea, lui MS i-a luat cam mult ca sa scoata o versiune noua si tot nu mi se pare ca au facut ceva extraordinar. E clar ca exista o imbunatatire, dar ma asteptam la mai mult. Nici macar nu se apropie de Vmware Converter.
Partea buna este ca exista suport pentru powershell si astfel puteti automatiza taskurile de conversie. Dar probabil nu foarte multi vor trece de interfata grafica.
Iata si noile functionalitati asa cum sunt descrise in MVCM Admin Guide:
MVMC 2.0 release of MVMC includes the following new features:
· Converts virtual disks that are attached to a VMware virtual machine to virtual hard disks (VHDs) that can be uploaded to Windows Azure.
· Provides native Windows PowerShell capability that enables scripting and integration into IT automation workflows.
Note   The command-line interface (CLI) in MVMC 1.0 has been replaced by Windows PowerShell in MVMC 2.0.
· Supports conversion and provisioning of Linux-based guest operating systems from VMware hosts to Hyper-V hosts.
· Supports conversion of offline virtual machines.
· Supports the new virtual hard disk format (VHDX) when converting and provisioning in Hyper-V in Windows Server® 2012 R2 and Windows Server 2012.
· Supports conversion of virtual machines from VMware vSphere 5.5, VMware vSphere 5.1, and VMware vSphere 4.1 hosts Hyper-V virtual machines.
· Supports Windows Server® 2012 R2, Windows Server® 2012, and Windows® 8 as guest operating systems that you can select for conversion.
In addition to the new features previously identified, MVMC provides the following functionality:
· Converts and deploys virtual machines from VMware hosts to Hyper-V hosts on any of the following operating systems:
· Windows Server® 2012 R2
· Windows Server® 2012
· Windows Server 2008 R2 SP1
· Converts VMware virtual machines, virtual disks, and configurations for memory, virtual processor, and other virtual computing resources from the source to Hyper-V.
· Adds virtual network interface cards (NICs) to the converted virtual machine on Hyper-V.
· Supports conversion of virtual machines from VMware vSphere 5.5, VMware vSphere 5.0, and VMware vSphere 4.1 hosts to Hyper-V.
· Has a wizard-driven GUI, which simplifies performing virtual machine conversions.
· Uninstalls VMware Tools before online conversion (online only) to provide a clean way to migrate VMware-based virtual machines to Hyper-V.
Ca sursa sunt suportate toate versiunile de Vmware ESX/ESXi de la versiunea 4.1 in sus.
De instalat se instaleaza pe orice Windows de la 2008 R2 in sus si va mai trebuie si Dot Net 3.5 si 4. Instalarea e un fleac, next/next.
Mai jos o sa va trec putin printr-un proces de migrare ca sa vedeti cum decurg lucrurile.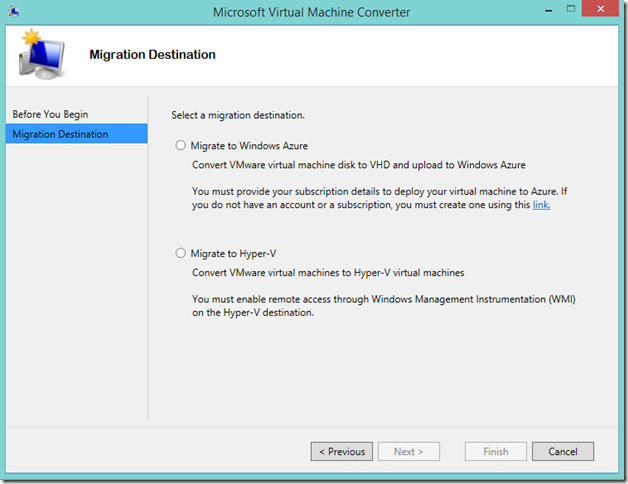 In pasul urmator va trebui sa specificati host-ul Hyper-V destinatie dar nu va lasati pacaliti de fereastra care va cere credentialele. Daca masina pe care rulati MVMC u este in acelasi domeniu cu hostul Hyper-V sau este standalone, big problem. Eu nu am reusit sa fac o migrare folosind o statie standalone iar Admin Guide-ul pomeneste de aceasta problema.
Chiar ma intreb, de ce oare atata dependinta de domeniu AD in cazul asta? Chiar nu ii vad rostul si nu inteleg de ce nu pot sa faca si ei un tool care sa mearga in mai mult de un scenariu.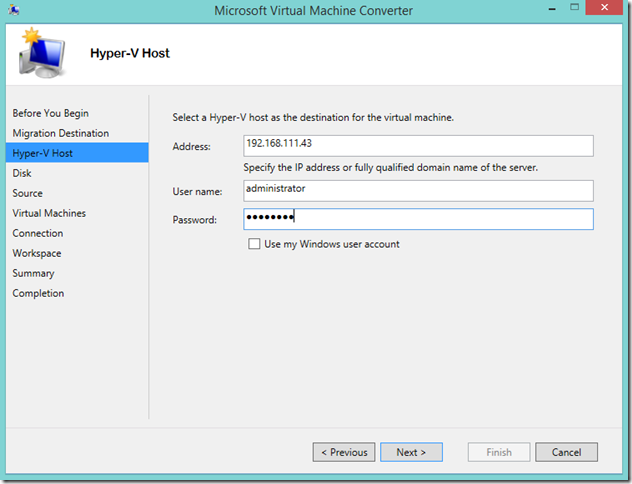 Urmatorul pas este sa specificati locatia fisierelor VHD sau VHDX pe serverul Hyper-V (in format UNC; in Admin Guide este specificat ca nu functioneaza cu local path chiar daca locatia este pe masina cu MVMC).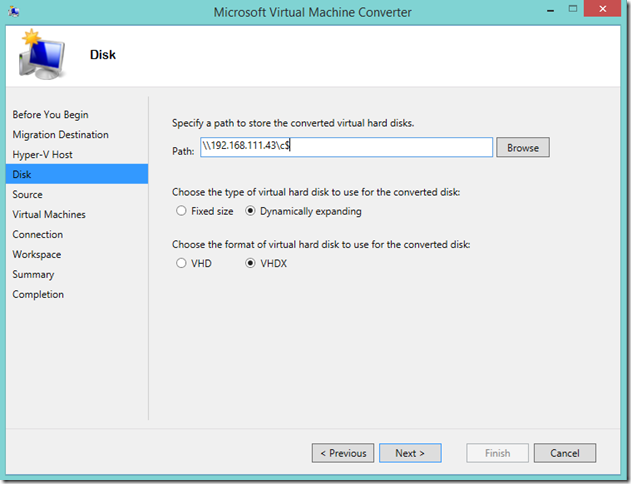 In fereastra source specificam adresa si credentialele serverului Vmware sau a VCenter-ului.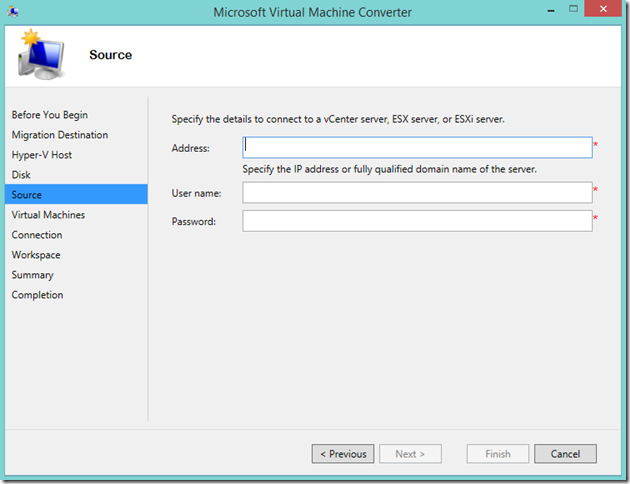 Odata obtinut accesul la mediul Vmware ne sunt enumerate masinile virtuale si putem alege VM-ul pe care vrem sa il convertim.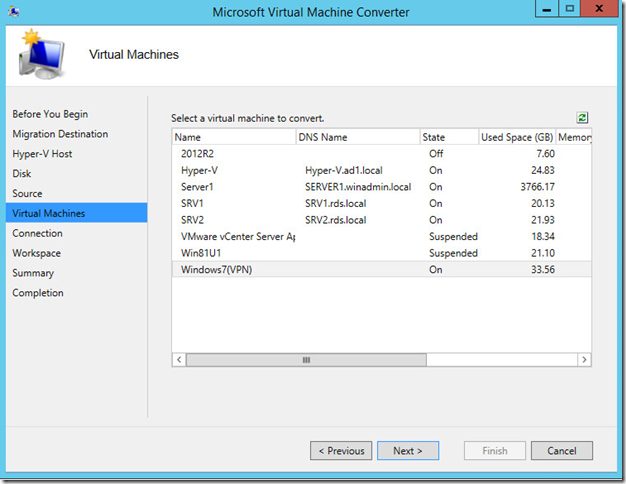 Procesul este diferit, in functie de starea masinii virtuale, On/Off. Daca este On, MVMC va incerca sa se conecteza la OS-ul guest si sa dezinstaleze Vmware tools inainte de conversie.
Daca e Off, face conversia si pe masina destinatia va dezactiva serviciile Vmware Tools; dezinstalarea urmand sa o facem noi manual.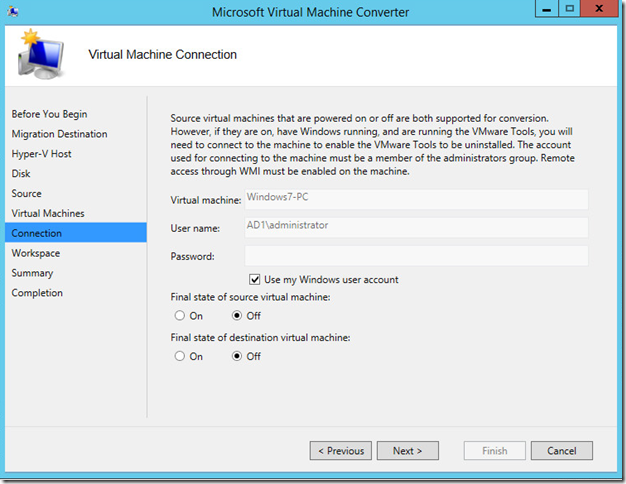 Stiu ca va ganditi ca daca dezinstaleaza Vmware Tools atunci imi afecteaza masina sursa, ceea ce nu e ok. Dar adevarul e pe undeva pe la mijloc. MVMC va face un snapshot al masinii virtuale, va dezinstala Vmware Tools, va copia masini pe serverul Hyper-V, dupa care va face restore to snapshot pe masina sursa. Nu prea ok daca vrei sa faci o conversie a unui server ce functioneaza si nu vrei sa il intrerupi deloc. As fi preferat sa pot sa imi aleg eu toate aceste optiuni din interfata GUI (nu stiu daca se poate altfel din Powershell).
OBS: si guest-ul de pe masina sursa e bine sa fie in acelasi domeniu, daca nu e, iar big problem

.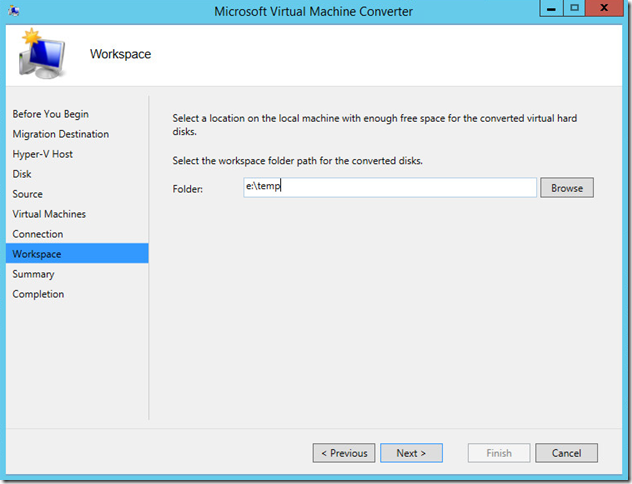 Odata setat si folderul temporar (care ma cam scoate din minti, ca nu inteleg de ce nu poate sa transfere direct in destinatie) putem incepe conversia.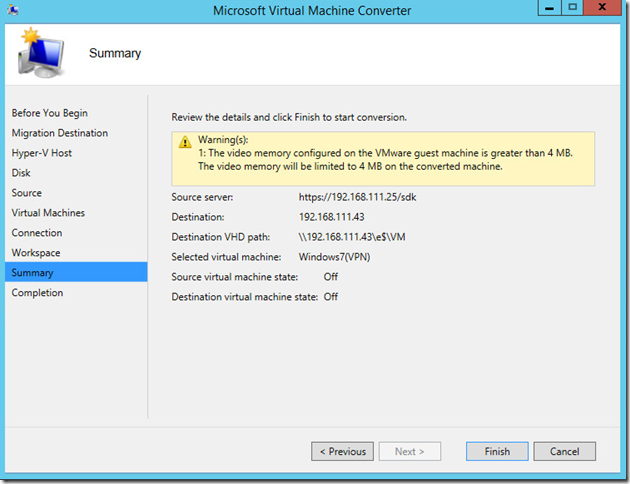 De durat o sa dureze, probabil de doua ori mai mult decat cu un alt tool mai profesional, dar acceptam pentru ca este free.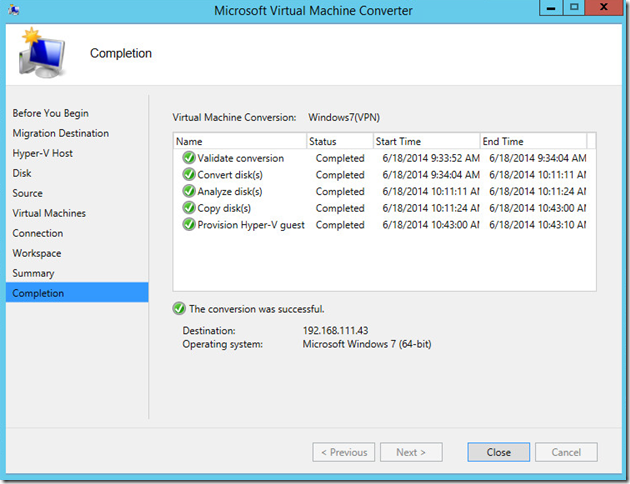 Iar conversia a functionat perfect (doar dupa ce mi-am facut bine temele si am eliminat toate blocajele, in special cele cu domeniul).

Urmeaza procesul de cleanup, remove de Vmtools, upgradat Integration Services, setat IP, etc. Daca ati mai trecut prin procese de V2V sau P2V probabil stiti procedura.
In concluzie MVMC 2.0 este clar un progres fata de vechea versiune ce eu am vazut-o ca fiind nefunctionala. Dar parca tot nu e suficient. E un tool prea barbar cu prea multe probleme pentru ceva atat de simplu. E un tool de conversie, nu ar trebui sa aiba nevoie de un manual de administrare, ar trebui sa fie intuitiv si sa mearga indiferent ca pun UNC path sau local path, sau ca sunt in domeniu sau nu.
Serios Microsoft, si te mai intrebi de ce nu migreaza lumea pe Hyper-V?
Write a comment