De pe la Windows Server 2012, sistemul de operare de tip server are un feature destul de incomod, mai ales pentru mediile de test. Si anume Auto Lock la ecran. Daca OS-ul nu detecteaza input de la mouse si tastatura pentru cateva minute, va bloca ecranul si va fi nevoie din nou de reintroducerea parolei.
In mod normal aceasta functionalitate este utila, atunci cand adminul uita sesiunea logata. Dar pentru cazurile cand lucram pe un laborator/mediu de test, atunci poate fi chiar enervanta.
Mai jos o sa prezint cum puteti dezactiva aceasta functionalitate, si fac asta pentru ca nu este deloc intuitiv. Pana la Windows 2012, totul era controlat prin screen saver, dar lucrurile s-au schimbat.
Deschideti Local Group Policy Editor (https://technet.microsoft.com/en-us/library/cc731745(v=ws.11).aspx):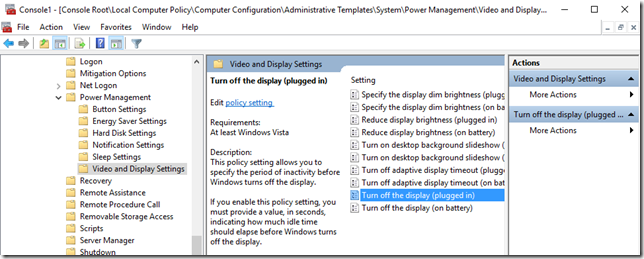 Navigati in Computer Configuration\Policies\Administrative Templates\System\ Power Management\Video and Display Settings iar aici schimbati "Turn off the display (plugged in)" pe Enabled si cu valoarea 0.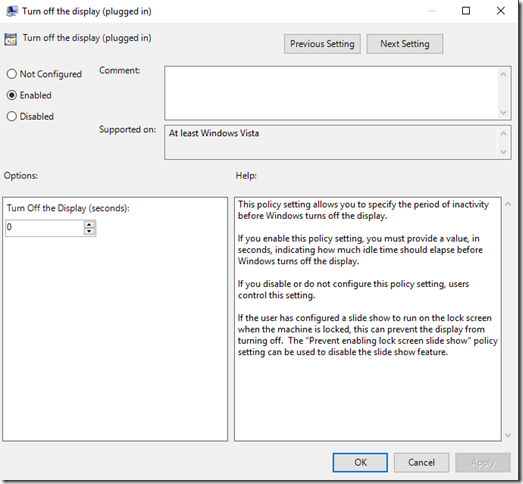 By default setarea este pe disabled.
Dupa modificare, va fi nevoie sa rulati si un GPUPDATE /FORCE pentru o aplicare imediata.
Write a comment