Cand setezi Deny de fiecare data esti intampinat cu urmatorul avertisment. Si e bine ca apare, ca de multe ori poti sa iti tai singur accesul.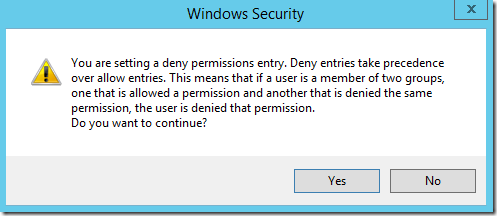 Dar exista si un caz cand Deny nu este chiar atat de puternic. Cand Deny este mostenit de la un obiect parinte, si adaugam dreptul explicit de Allow pe obiectul in cauza, atunci dreptul setat explicit castiga (chiar daca prin combinarea drepturilor avem un Deny).
Iar documentatia spune fix la fel:
Inherited Deny permissions do not prevent access to an object if the object has an explicit Allow permission entry.
Explicit permissions take precedence over inherited permissions, even inherited Deny permissions.
https://technet.microsoft.com/en-us/library/cc783530(v=ws.10).aspx
Write a comment