Windows Server 2008 R2 a adus destule noutati si in ceea ce priveste rolul DHCP Server. Dintre acestea, in acest articol vreau sa vorbesc despre rezervari si filtrari.
In ceea ce priveste rezervarile, o sa fiu scurt. Noutatea e ca, in consola de DHCP, in afara de metoda clasica (obositoare si plictisitoare) de a face rezervari – click dreapta pe Reservations – New reservation …..s.a.m.d., a mai aparut si o metoda simpla, mai exact transformarea lease-urilor in reservations : in Address Leases dam click dreapta pe computerul caruia dorim sa-I facem rezervarea, click pe Add to Reservation si gata :

Primim si confirmarea :

Si ca sa ne convingem :

Simplu, nu ? De ce oare n-a aparut mai demult aceasta facilitate, n-am mai fi pierdut timpul cu metoda clasica, cu netsh sau cu diverse scripturi. Totusi, trebuie sa retinem ca, daca dorim sa rezervam anumitor computere adrese IP diferite de cele asignate de serverul DHCP, atunci vom folosi tot vechile metode.
Sa trecem acum la filtre, mai exact la MAC filtering :

E destul de clar, nu ? Avem doua liste : Allow si Deny. Pentru a deveni functionale, trebuie sa le dam Enable: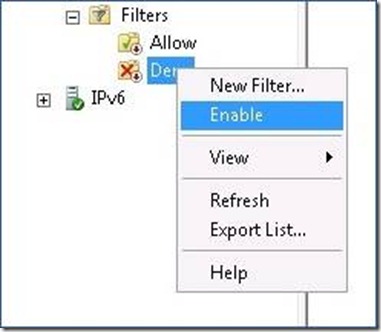 Listele pot fi populate astfel :
In Adddress Leases, cu click dreapta – Add to Filter – Allow sau Deny :

Manual, cu click dreapta pe Allow sau Deny, New Filter :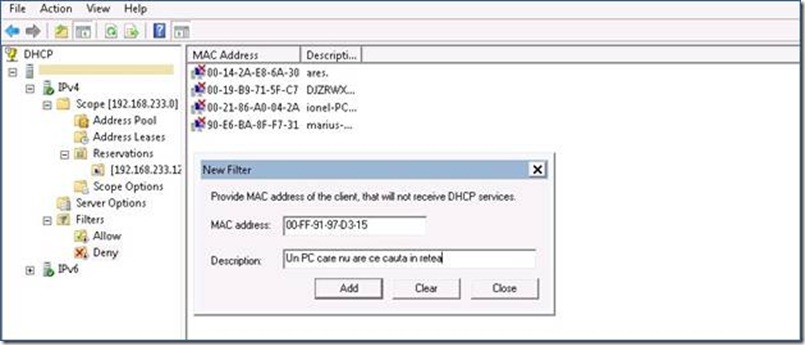 Sau folosind * (atentie, suporta unul singur, nu merge cu 00-00-*-AF-*-A3) :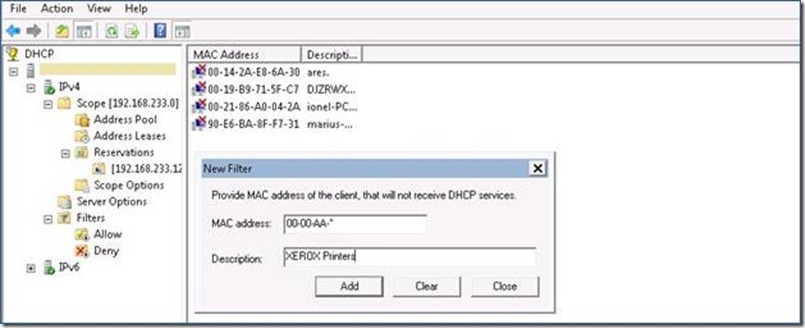 Ce folosim, Allow sau Deny ? Sau ambele? Trebuie sa avem in vedere urmatoarele aspecte :
– In cazul in care activam filtrul Allow, computerele care nu au MAC-ul in lista nu vor primi IP de la serverul DHCP. Putem adauga in lista toate PC-urile din ograda proprie si atunci suntem siguri ca cei care mai vin cu laptopurile de acasa sau din afara companiei nu vor primi IP. Bine, daca se pricep un pic, isi pot pune un IP static si nu mai au nevoie de DHCP.
– In cazul in care activam filtrul Deny, va trebui sa monitorizam serverul, si daca observam in Address Leases computere care nu au ce cauta in companie, sa le adaugam in lista Deny.
– Nu prea vad rostul activarii ambelor filtre, in afara poate de cazul in care uneori vrem sa mutam temporar unele computere din Allow in Deny si invers.
– Daca MAC-ul unui PC e in ambele liste, va avea prioritate filtrul Deny, adica PC-ului nu i se va asigna o adresa IP.
Cam atat deocamdata despre aceste noi facilitati, ar mai fi cateva, dar … ramane pe altadata.
4 Responses to "Windows Server 2008 R2 DHCP SERVER: Rezervari si Filtre"
Write a comment