Nu e cea mai eficienta solutie sa folosesti un server 2008 doar pentru NAT, dar daca tot il ai poate il poti folosi si pentru asa ceva. Argumente pro/contra sunt o gramada.
In primul rand iti trebuie doua placi de retea. Una conectata la Internet (direct sau indirect printr-un alt router, NAT, conexiune PPPoE) si una conectata in reteaua locala, unde ai sistemele care tipa dupa acces la net.

Tip: redenumiti conexiunile de retea cu nume sugestive (Internet, Local) nu cum am facut eu mai sus.
Adaptorul conectat la internet trebuie sa fie configurat (IP, Gateway, DNS – poate fi si prin DHCP) si net-ul trebuie sa mearga de pe server inainte de a trece mai departe. Pe placa interna se seteaza doar adresa IP locala si subnet mask-ul.
Pasul urmator e de a adauga rolul de Routing and Remote Access.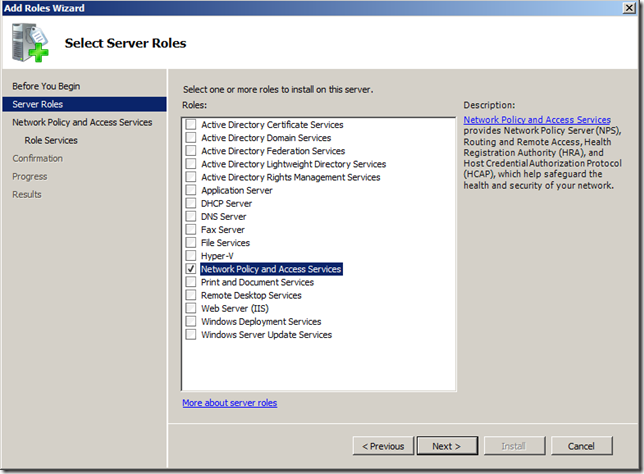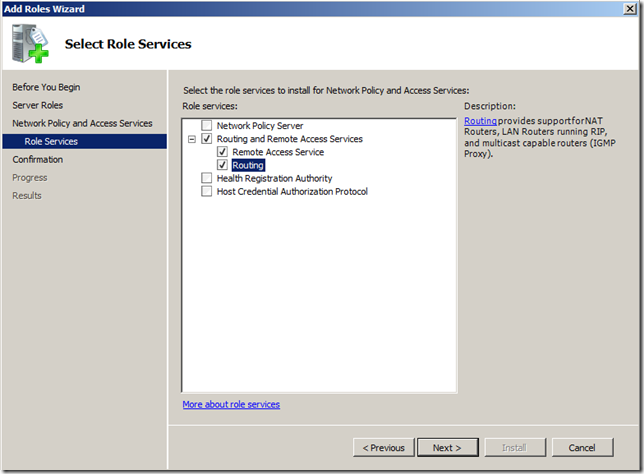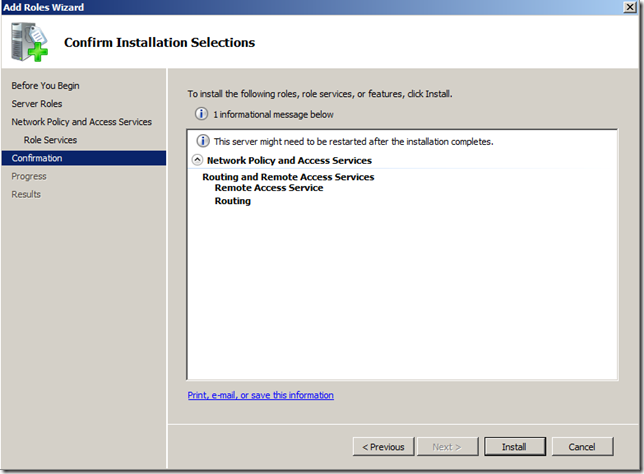 Dupa instalare, deschidem consola Routing and Remote Access din Administrative Tools.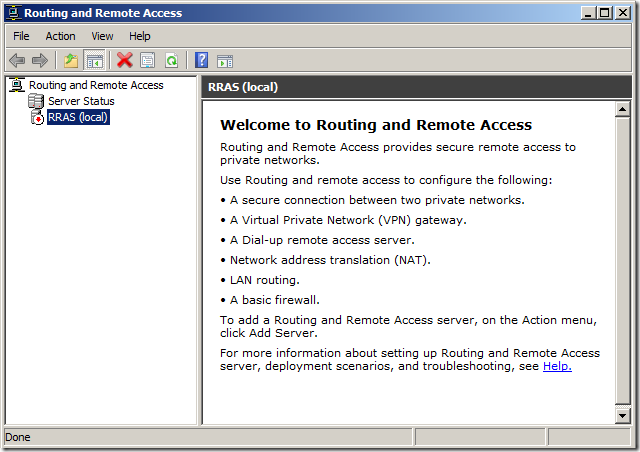 Click pe Configure …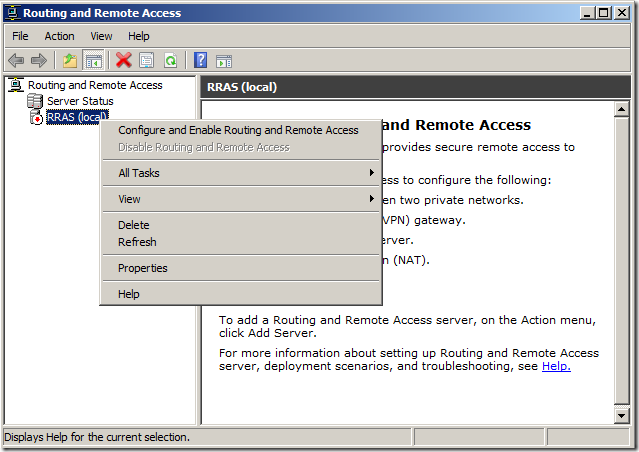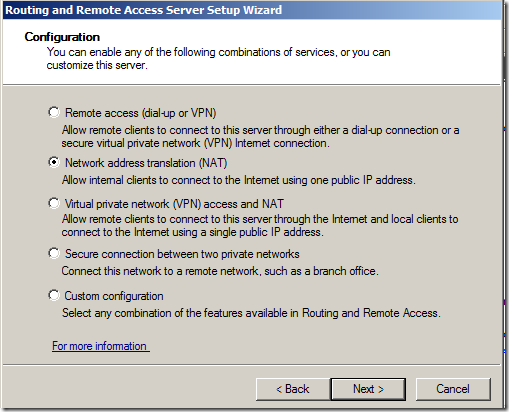 Aici e o bifurcatie in toata procedura. Daca avem o conexiune directa la Internet mergem pe prima varianta. Daca folosim PPPoE (gen conexiunile la RDS pe care le aveam acasa) atunci o sa fie nevoie sa selectam a doua optiune. Varianta cu PPPoE o sa o descriu intr-un alt articol si o sa prezint acum doar prima varianta.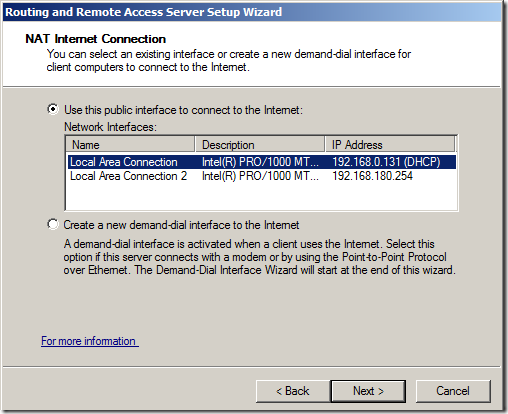 In caz ca nu avem un server de DNS si DHCP functional in reteaua interna, atunci putem folosi server-ul care va face NAT pe post de DNS/DHCP. Activand optiunea, serverul o sa distribuie adrese IP pe placa interna si o sa forwardeze cererile de DNS catre serverul pe care il are setat pe adaptorul conectat la internet.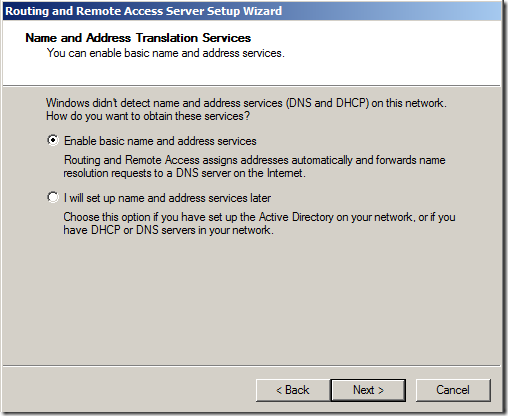 Nota: scopul DHCP se poate modifica si mai tarziu din consola RRAS si set pot seta si excluziuni.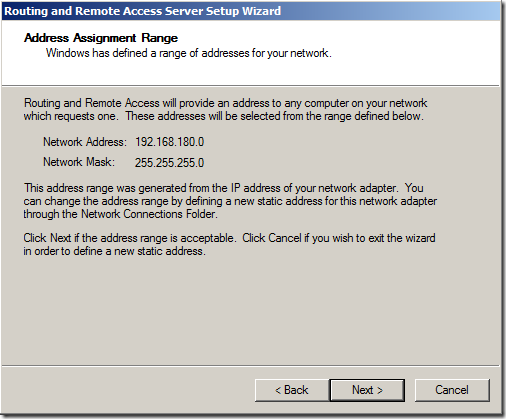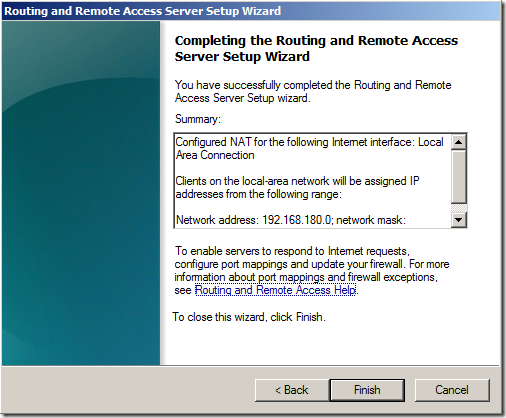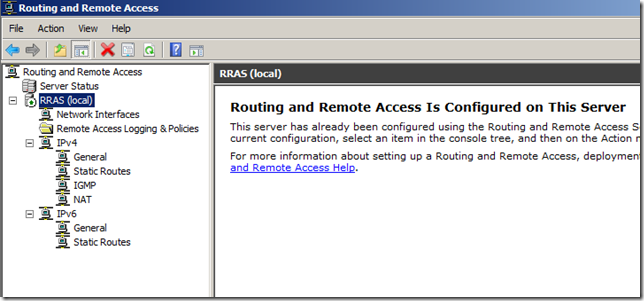 Si ne apropiem de final.
Facem un renew de IP pe un sistem intern …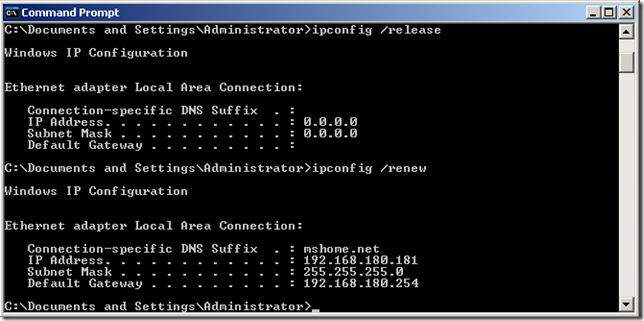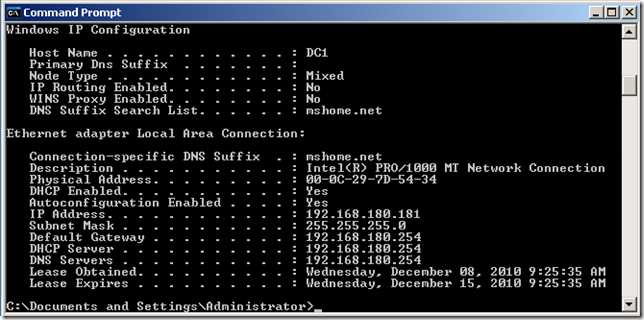 Si uite ca ne putem conecta la Internet.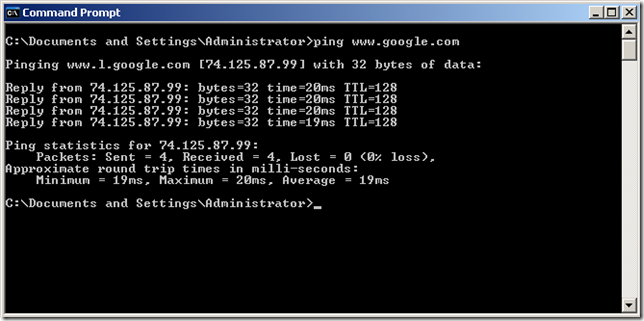 Nota importanta: Windows Firewall incurca teribil acest setup. By Default Windows Firewall e activat pe toate profilele de retea. Pentru a face serverul de NAT functional e nevoie sa dezactivam Windows Firewall pe profilul la care e conectat adaptorul intern. Si uite asa imi gasesc subiecte pentru un alt articol.
Write a comment