Upgrade-ul la Windows Server 2012 este un pas pe care multi dintre system administrators va trebuil sa il facem la un moment dat. Am facut upgrade-ul intr-un mediu de test (recomand ca in productie sa se faca backup) in care aveam un DC cu Windows 2008 R2 si am vrut sa mut toate FSMO roles pe un Windows 2012.
Nu am facut migrare de useri, grupuri de useri, GPOs cu ADMT sau alte tool-uri de migrare (poate despre astea intr-un alt articol), ci am introdus un nou domain controller in paralel cu Windows 2012.
Pentru inceput trebuie sa pregatim forestul pe care il avem pentru migrare, iar pentru acesta avem nevoie de CD-ul cu Windows Server 2012 si trebuie sa rulam pe DC cu 2008 adprep /forestprep :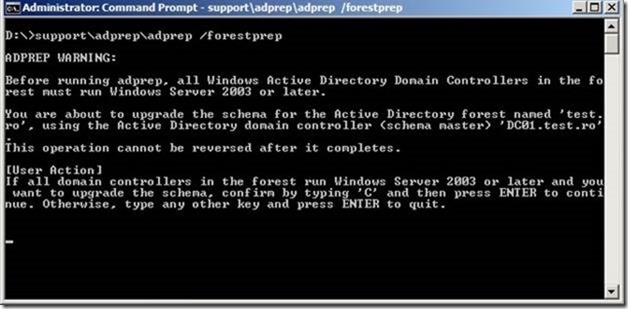 Nota: Noul wizard din Windows Server 2012 poate sa detecteze cand este nevoie si sa ruleze automat ADPREP (/forestprep sau /domainprep), dar pentru cei old scool se poate rula si manual ca mai sus.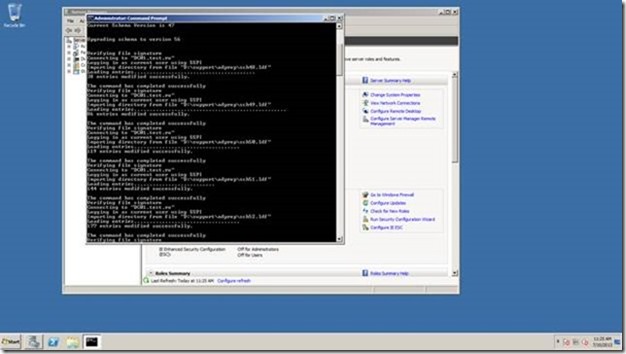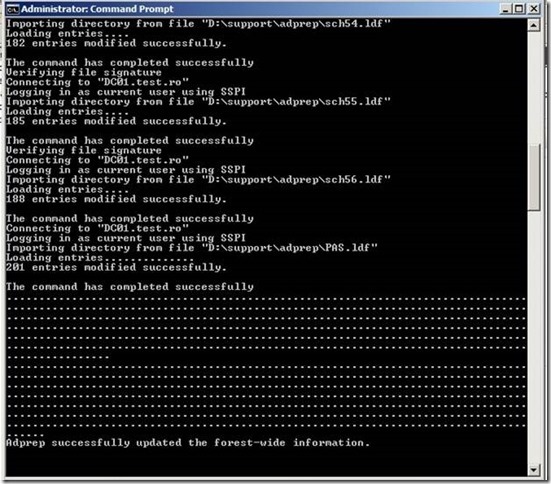 Dupa ce se termina procesul de pregatire a forestului, va trebui sa instalam si sa configuram DC pe serverul cu Windows Server 2012. Pentru aceasta vom instala mai intai rolul Active Directory Domain Services ruland in Powershell comanda  Add-WindowsFeature –name ad-domain-services –IncludeManagementTools, dupa care tot din Powershell prin comanda Install-ADDSDomainController vom configure serverul ca domain controller.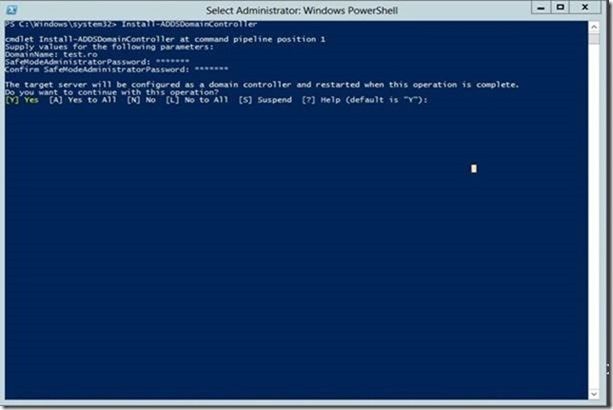 Dupa terminarea instalarii noului DC, va trebui sa mutam FSMO Roles de pe serverul cu 2008 R2. Mai intai va trebui sa transferam Schema Master Role prin intermediul Active Directory Schema Master, insa mai intai va trebui inregistram Schmmgmt.dll prin comanda regsrv32 schmmgmt.dll.
In continuare vom deschide consola de Active Directory Schema Master dupa care click dreapta pe Active Directory Schema si alegem Change Domain Controller.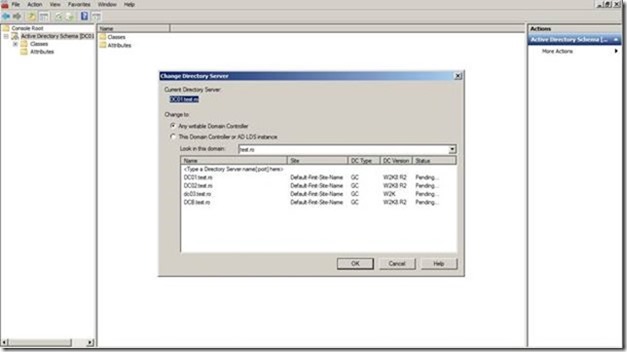 Dupa aceasta va trebui din nou sa dam click dreapta pe Active Directory Schema si selectam Operation Masters pentru a muta rolul pe noul server.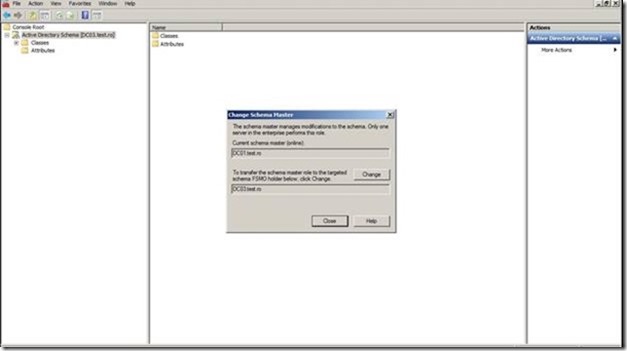 Aceiasi pasi va trebui sa ii facem si pentru mutarea (change domain controller mai intai dupa care mutarea rolului) Domain Naming Master, insa din consola Active Directory Domains and Trusts, iar pentru RID Master, PDC Emulator si Infrastructure Master vom folosi Active Directory Users and Computers.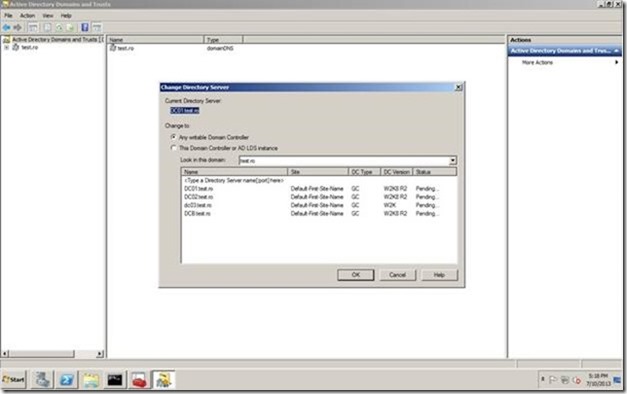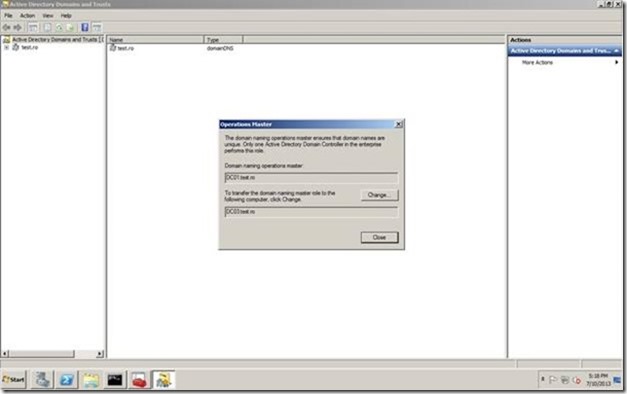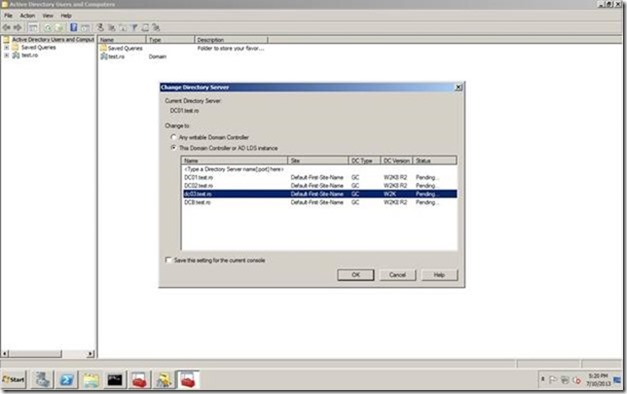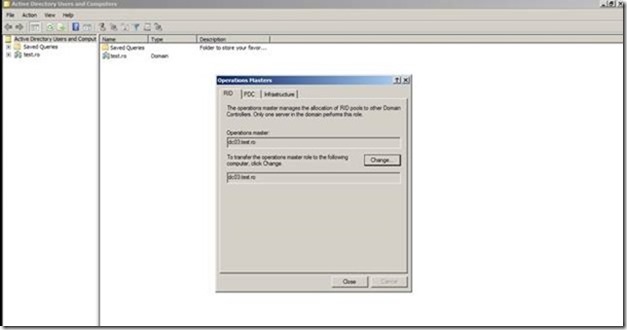 Iar in final pentru a ne asigura ca toate rolurile sunt pe noul Domain Controller vom rula comanda netdom query fsmo, dupa care putem depromova si scoate din domeniu vechiul server (teoretic; practic e nevoie de investigatii detaliate pentru a detecta daca mai exista sau nu o dependinta de vechiul server).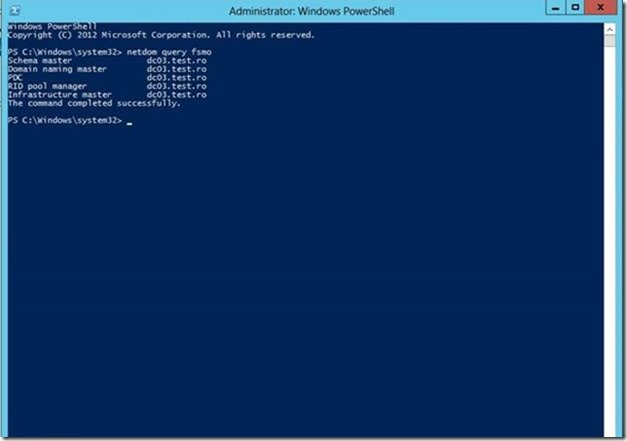 Write a comment