Intel Compute Stick mi s-a parut ceva super atunci cand a aparut. Doar ca la fel ca majoritatea produselor Intel, e un produs neslefuit iar pentru utilizatorul de rand poate deveni un cosmar. Sunt foarte multi utilizatori ce au cumparat produsul si din diverse motive s-au trezit cu un produs nebootabil. In general motivul a fost upgrade la Windows 10, dar poate fi si un virus/rootkit, stergerea unor date ce afecteaza OS-ul etc. Problema e ca in afara de modul de recovery/refresh/reinstall ce vine cu Windowsul 8.1 instalat, nu mai exista altceva. Produsul nu vine cu CD/USB si nici nu exista nici o varianta online de a downloada o imagine de recovery.
Si ghici ce, daca stergi totul si incerci sa instalezi un Windows "curat" iti pierzi garantia. Iar garantia oricum e ceva de cosmar. Trebuie sa trimiti produsul la Intel si iti vor trimite ei inapoi unul functional (asta din ce am tot citit si eu pe forumurile intel)
Nota: Acum stau si ma intreb, oare cat de greu ar fi fost pentru Intel sa puna imaginea de recovery undeva online. S-ar fi rezolvat 99% din problemele legate de acest produs.
Unii au incercat sa faca reinstall la Windows 8.1 dar nu au reusit sa il activeze si fara pasul asta nu poti face upgrade-ul gratuit la Windows 10. Dar o sa va explic acum unde este problema.
Problema consta in versiunea de Windows ce vine preinstalata pe Intel Compute Stick – Windows 8.1 with Bing. Iar cheia produsului ce afla doar in BIOS (nu mai exista nimic scris pe cutie sau in alta parte) este pentru aceasta versiune de Windows. Asa ca daca incercati sa instalati o alta versiune de Windows, o sa va ceara product key, pentru ca cel din BIOS nu se potriveste.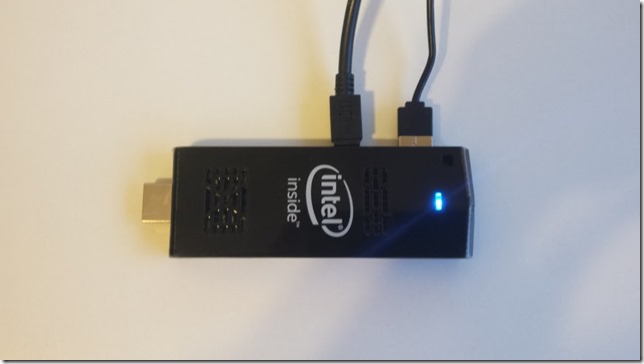 Mai jos o sa pun pasii prin care puteti sa faceti deviceul functional din nou:
1. Cauta pe net o versiune de Windows 8.1 with Bing. Nu o sa o gasesti decat in locuri "underground" aka torrente. Lasa la o parte toate ideile cum ca nu e bine pentru ca cealalta varianta e sa pui produsul in plic si sa-l trimiti la Intel.
2. In caz ca imaginea e IMG, poti sa ii schimbi extensia in ISO. O sa fii surprins ca o sa mearga.
3. Foloseste Rufus pentru a crea un USB bootabil si alege optiunea MBR Partition scheme for UEFI.
4. Instaleaza Windows-ul de pe USB si activeaza-l.
5. Daca ai curiozitatea sa vezi cheia de Windows din BIOS foloseste RWEverything.
6. Odata Windows-ul instalat, fa upgrade la ultima versiune de BIOS si instaleaza driverele. (BIOS-ul merge updatat si inainte folosind un USB drive dar e o alta poveste; tineti minte ca inainte sa instalati Windows 10 e recomandat sa aveti ultima versiune de BIOS)
7. Cand ai obtinut acces la internet, activeaza Windows-ul.
8. Fa upgrade la Windows 10 (recomand prin USB stick)
9. Daca upgrade-ul a reusit, inseamna ca ai Windows 10 activat si problemele tale au luat sfarsit.
10. In caz ca te bantuie ceva legat de Pasul 1 unde ai folosit o imagine downloadata de pe torrente, booteaza de pe un stick cu Windows 10, sterge tot si instaleaza pe curat. Windows-ul ar trebui sa se activeze acum fara probleme pe baza hardware ID-ului.
Write a comment